Microlocks are (very) small locs, typically installed on a precision grid. It's size, number and precision parting gives it's wearer a full look and allows for versatility in styling.
On average, Microlock Establishments  can result in 200 or more locs.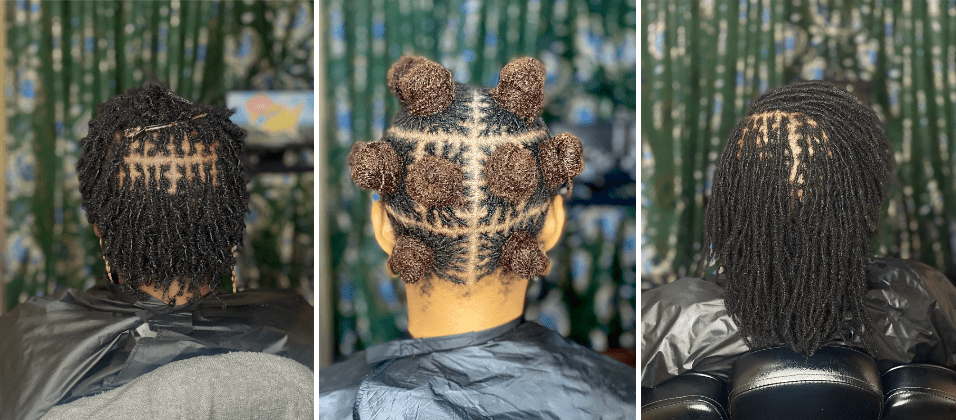 How long does it take to 'install' Microlocks?
Installation or Establishment times are dependent on specific hair factors which vary from person to person. Some include:
Length (Short, Medium, Long)
Density (Low, Medium, High)
How long do Microlocks last?
Microlocks can last a lifetime. It is meant to be a permanent natural hair choice. It can be taken down or combed out and hair can return to its loose 'afro'  shape. This is a tedious process.
What are the Benefits of Microlocks?
Microlocks: Hair For Any Occasion 
With Microlocks you can:
✓ Wear your Natural Hair without having to worry about excessive maintenance
✓ Retain Length
✓ Hair Looks Fuller
✓ Versatile Styles
Always be:
✓ Vacation and Travel ready
✓ Camera ready
✓ Work ready
Always :
✓ Have Good Hair Days
Simply:
✓ Wake up, Fluff and Go!
✗ Combs
✗ Detangling
✓ Low Maintenance
How are Microlocks Maintained?​
Microlocks are maintained via a technique known as interlocking, commonly referred to as a Microlocks Retightening service or Microlocks 'Retie.'
Retightening sessions are usually done on a schedule of every 4-6weeks.
What's the Cost of Microlocks?
Learn the Art of Microlocks:
Empower yourself & others around you
In this Course You'll Learn How To:
✓ Install Microlocks
✓ Create that coveted Microlocks Grid
✓ Maintain Microlocks
✓ Repair Microlocks
This virtual course is self-paced; can be completed on your own time, anywhere there's internet available.
Interested in Having Microlocks?
Join the Microlocks Community 🇹🇹
Submit your Microloc'd Selfies or Videos (containing yourself only) to be featured.
Microlocks: Trinidad & Tobago